What Makes Thai Cuisine So Special? Influences, Regions, Medicinal Qualities
Steam wafts up from your plate, bringing with it aromas that make your mouth water. Looking down, you see a cornucopia of pleasing colors and shapes on a backdrop of white. You scoop some of this and that onto your spoon and with that first bite comes the perfect combination of salty, sweet, sour, spicy, and perhaps even bitter flavors.
Thai cuisine done right is always an utter feast, and it's one of the key reasons why Thailand and its cities are always on the most reputable top 10 and top 20 lists. While some recipes focus on just one taste and in others one or two may stand out more, most dishes offer an umami balance.
Because Thai recipes are so adaptable, there's also always something for everyone no matter what your dietary requirements or preferences may be. And thanks to beneficial indigenous ingredients, Thai dishes offer great health benefits.
But it's more than all this you're enjoying. Every mouthful is bursting with tradition and culture that has evolved over space and time.
A culinary melting pot
Thai cuisine gradually evolved into what we see today thanks to the Thai talents of duplicating, adapting, and incorporating what they come across. This includes elements brought by foreign merchants and dignitaries starting around the 1500s during the Ayutthaya era of the Siamese kingdom.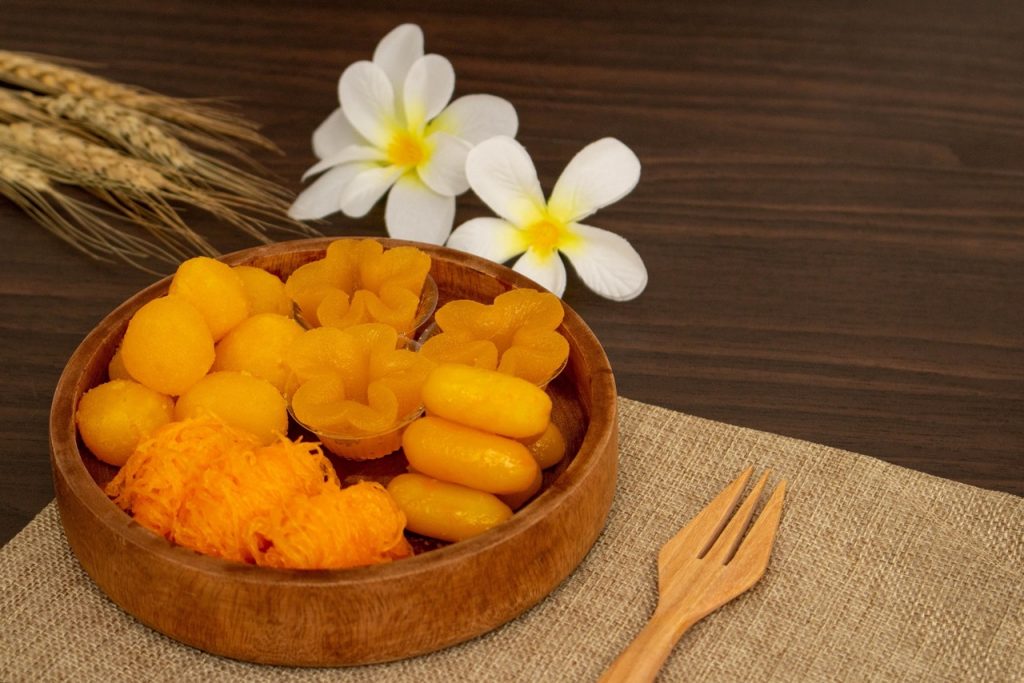 Source: TheCorgi / Shutterstock.com
The Portuguese, the first major foreign presence in Thailand, brought with them South American chilies, the origin of spiciness. A Siamese-born Portuguese descendant, Maria Guyomar de Pina, is credited with introducing delicious desserts adapted from Portuguese recipes, such as foi thong. Even the famous Thai TV drama "BuppeSanNivas (Love Destiny)" set in the Ayutthaya period includes a scene with Maria and her famous Thai sweets.
We have the Chinese immigrants of the past to thank for the wok-based techniques of stir-frying and deep-frying. Because clear non-spicy soups (kaeng jurd) are so commonplace, Thais themselves forget they are mostly modified Chinese dishes. The Chinese also added noodles as a staple, and it's believed that the condiment naam pla (fish sauce) originated from China.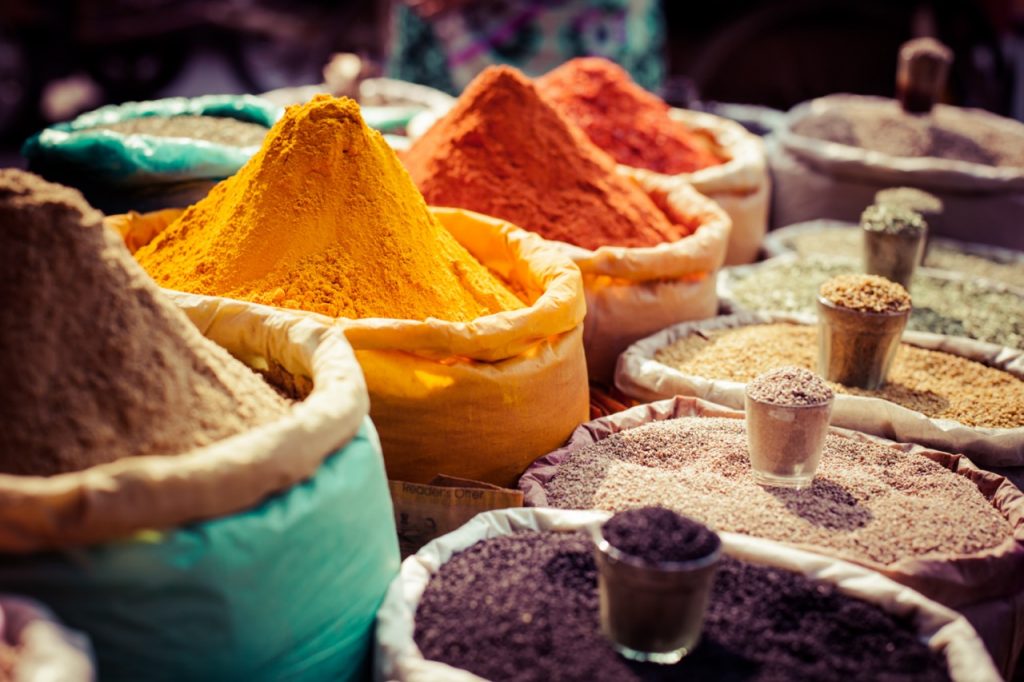 Source: Curioso.Photography / Shutterstock.com
Indian spices found their way into Thai cuisine too. The accounts of how, though, are diverse, with some chefs saying the Portuguese introduced them, while others say it was Buddhist monks from India.
The world-famous massaman curry, once enjoyed only by royalty and dubbed the "king of curries" by CNN, is believed by some to originate from Persian influences and by others to be a culmination of Indian, Chinese, and Khmer permeations.
Diversity in geography
If you look more closely at Thai cuisine, you'll discover there is more variety than meets the eye because it is also influenced by geography.

Thailand's more mountainous north has vegetables not naturally found elsewhere such as puk waan (sweet leaf/sauropus). Northern cuisine also relies less on sugar, obtaining sweetness from selected raw ingredients. Sticky glutinous rice is preferred as are fresh or steamed vegetables to be dipped in a naam prik (chili dip) like nam prik noom (Thai green chili dip). There are plenty of yummy noodle dishes to try too, like the popular khao soi (spicy curry noodle soup).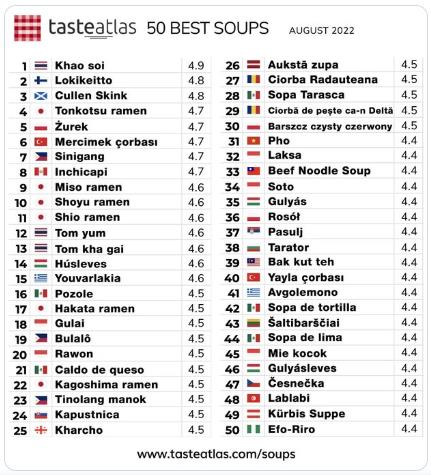 RANKING UPDATE: https://t.co/dxWUSLTz1C

World's soups ranking according to TasteAtlas audience ratings. Opinions? pic.twitter.com/QTyfbsKXcD
— TasteAtlas (@TasteAtlas) August 3, 2022
Esan or Thailand's northeast is famed for its fresh Laotian-influenced dishes, the most popular being somtum (papaya salad), boldly spiced with both fresh and dried chilies. The northern cuisine's distinctive salty taste comes from pla rah (fermented fish), a key ingredient that demonstrates the importance of food preservation for this region which faces constant bouts of drought. Northeastern cuisine also tends to be drier with fewer juices or soup and is eaten with sticky rice and seasonal vegetables.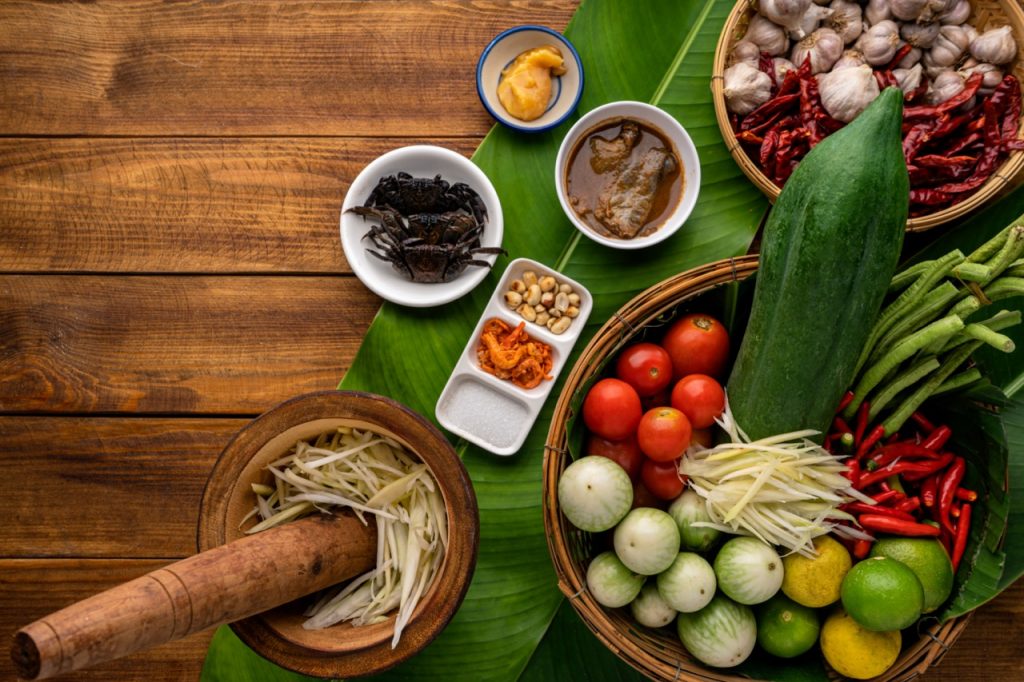 Source: sarun_J / Shutterstock.com
The central region has a large selection of Chinese-influenced dishes like the delectable moo palo (five-spice braised pork belly and egg stew). Even more distinctive is that the region is home to royal cuisine or ahaan chao wang, literally "food of the people of the palace." This originated with the Ayutthaya kingdom which forged trade routes and diplomatic relations leading to the exchange of rare and valuable ingredients used to create dishes with a perfect balance of flavors, like massaman, mentioned earlier. Royal cuisine was also meant to be a feast for the eyes. The presentation of dishes like khao chae (soaked rice served with a variety of sweet meats and savory condiments) is thus very visually pleasing.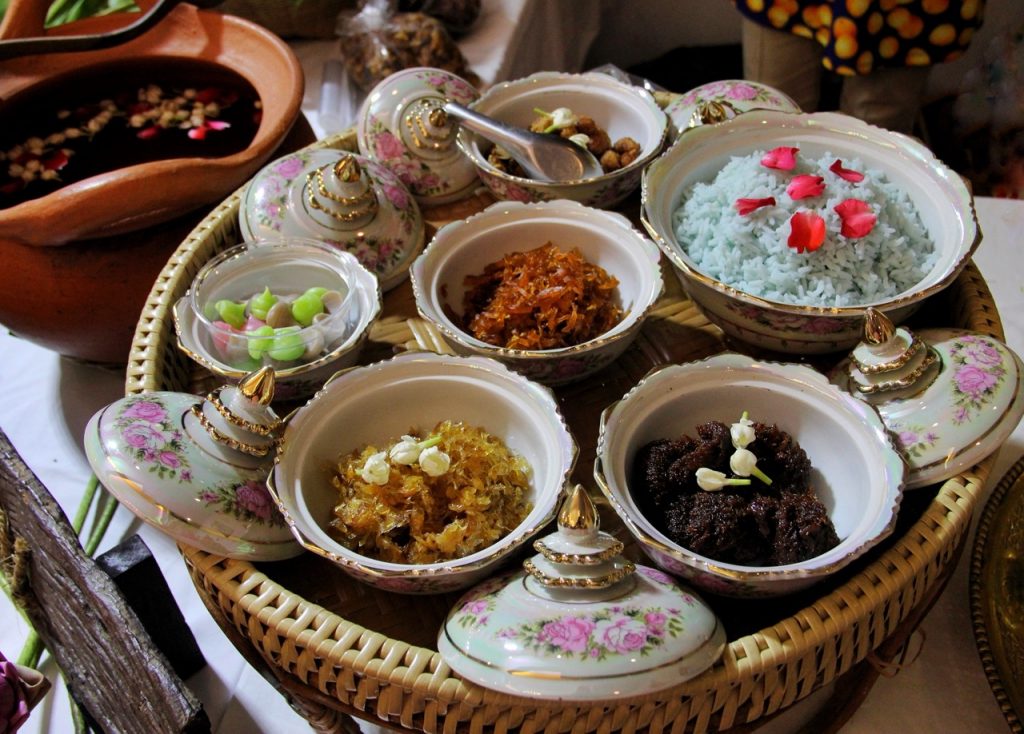 Source: Tunyanat jamonjureekul / Shutterstock.com
Down south where high-quality seafood is plentiful, the many military forts and temples indicate the food was historically meant for soldiers and villagers. Southern cooking can be very spicy and emphasizes deep, intense flavors using herbs and spices like turmeric, which differentiates southern curries, like kaeng leuang yod maprao orn (spicy yellow curry with young heart of palm), from all others. There is also greater use of shrimp pastes, fish sauce, and coconut milk, with coconut flesh being a standard condiment.
Ingredients, glorious ingredients
King Ramkhamhaeng the Great of the Sukhothai period is widely credited with coining the proverb "There is fish in the water and rice in the field," conveying the sheer abundance of Thailand's natural resources.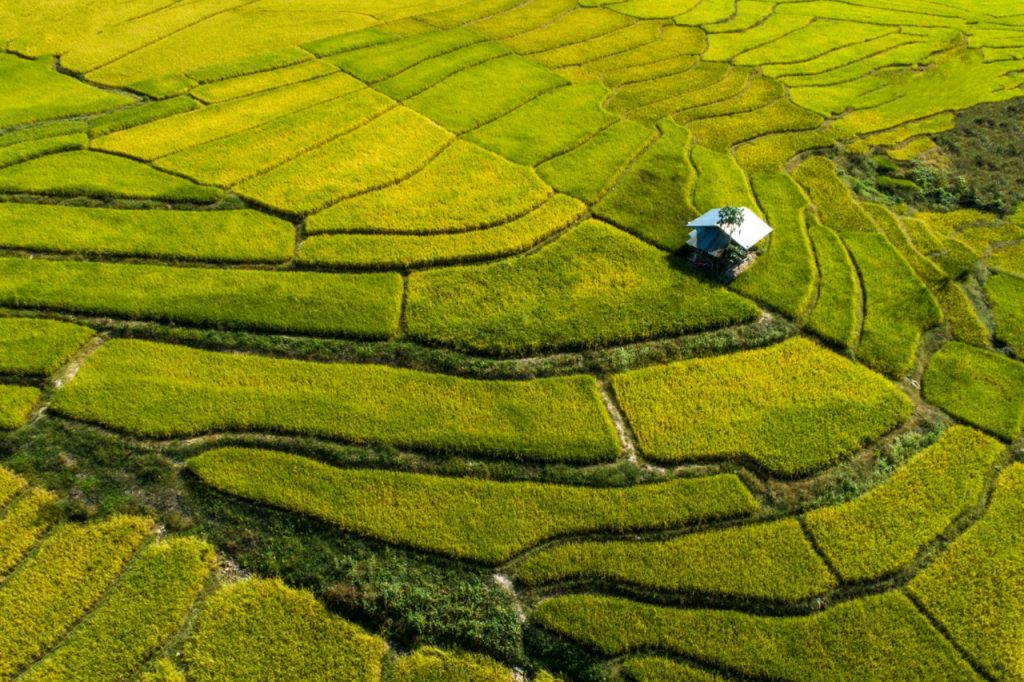 Source: Love Silhouette / Shutterstock.com
As the saying goes, there is fish. Thailand is in a region of great rivers and has coastlines totaling over 3,000 km in length. Thus, freshwater fish, shrimp, crabs, and crayfish, as well as their marine counterparts and also squid, scallops, and more are regular menu items.
Next is rice, so central to the way of life that the common utterance kin khao (have a meal) literally translates to "eat rice." Aside from fragrant jasmine rice, Thailand offers several glutinous, white, and organic rice varieties.
The enormous selection of spices, herbs, and vegetables warrants a trip to a Thai fresh market like Talad Khlong Toei, one of the stops in the Netflix sensation "Somebody Feed Phil," just to see how wide the selection really is. While there, you can't miss the colorful array of fruits Thailand has to offer, from supple mangosteen to the durian or "king of fruits," depending on the season.
This abundance allows everyone from roadside eatery cooks to fine dining chefs to whip up the plentitude of delicious Thai dishes or concoct thoughtful adaptations.
The yummiest medicine
Thai recipes, many of which have vegetables as a major ingredient or are served with fresh or steamed vegetables on the side, are highly adaptable. So beef could be swapped out, say for instance, with fish. Or, if you're very health-conscious, maybe you'd like to try the growing selection of alternative meats or ask for the vegetarian or vegan version of your selected dish.
Generally, great taste means food that's not all that good for you, but Thai cuisine is different. In fact, globally renowned chef Nooror Somany-Steppe has said it is "the best medicine to eat." How so? Let's consider a few of the ingredients in the spicy sour soup tom yum to find out.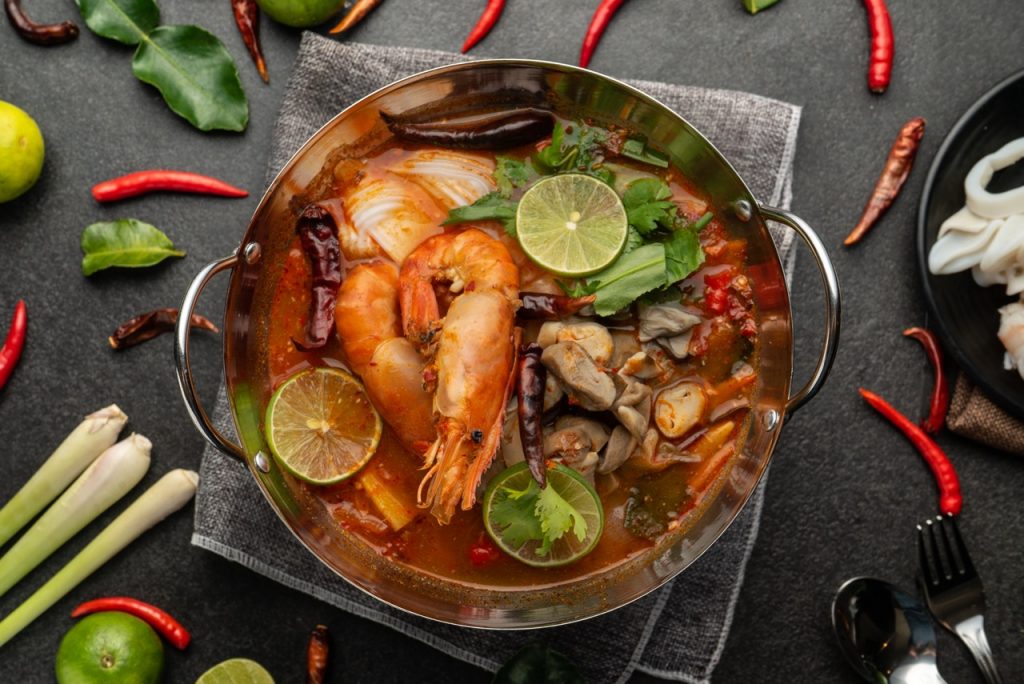 Source: tunanon thanyakornsadit / Shutterstock.com
Tom yum's beta-carotene-rich kaffir lime leaves help with coughing and digestive issues. So can the lemongrass, which also lowers blood pressure. Galanga has antibacterial properties and is a mild laxative. Rich in vitamin A, chili peppers boost immunity and ease inflammation. Cilantro, meanwhile, is useful in cleansing the body of metals. Shallots reduce bloating and the risk of heart disease. Vitamin C and essential amino acids are added to the mix thanks to straw mushrooms. And lime can treat headaches and bleeding gums.
The Resurgence of Thai Herbs (https://www.thailandnow.in.th/arts-culture/the-resurgence-of-thai-herbs/)
An extension of Thai hospitality
Thai gastronomy can be seen as a road map of Thai culture, from the historical influence of neighboring and foreign countries to Thai people's appreciation for balance and harmony.
Food is a major aspect of Thai culture and, thankfully, Thai dishes can be found all over the world. However, there's no better place for authentic Thai cuisine than right here in the Land of Smiles.
So take your pick, from street food hawkers and roadside stalls to fine dining establishments. A legion of Thai eateries, 133 of which are featured in The MICHELIN Guide's 2022 Bib Gourmand selection, is waiting to thrill your eyes, nose, and taste buds with all that Thai cuisine has to offer.

Source: https://www.thailandnow.in.th/life-society/what-makes-thai-cuisine-so-special-influences-regions-medicinal-qualities/